FULLY BOOKED – Wolf at the Door: Online Writing Weekend
Sat Mar 27th 2021
Sun Mar 28th 2021
10:00 am
5:00 pm
Booking required
Full waged £90 / Part-waged £55 / Low or Unwaged £30
19.02.2021 – this event is now fully booked. You can add your name on to the waiting list via the same link and if a place comes up we'll contact people on a first come first served basis.
This event requires booking in advance which you can do: here. Early booking is advised if you want to guarantee a place as the last two weekends sold out.
About this Event
The imagination makes available and harmonises what may seem contrary energies within us and makes a spiritual life possible. Wolf at the Door offers a friendly and nurturing way of exploring this essential human faculty through writing, with the help of a little meditation and ritual. No writing experience is necessary, just a willingness to step through a door into new creative spaces, accompanied by experienced guides.
What to expect
You do not need to have attended previous Wolf at the Door weekends in order to come on this one. The event will be online by Zoom. As with our in-person events, the leaders will set up a variety of activities to stimulate the imagination and get you writing. Each day will run from 10.00 – 5.00, with an hour for lunch and tea breaks.
However, there will be certain adaptations for the online platform, as well as requirements in order to recreate as much of a 'real life' Wolf at the Door experience as possible.
Places will be limited to 18 to retain as much of the friendly, open and supportive atmosphere of our events as feasible, and to allow everyone a chance to read out their work, if they wish, and be heard.
Getting the most from the weekend
We advise that if possible you use a laptop for the event, rather than relying on a phone or tablet, as we feel that using a tablet or phone will not give you the group experience available to laptop users which is essential to give us all a feeling of full group participation in the writing and reading back. However, this is not an essential requirement.
We also request that you make sure you can find a space while you attend in which you will be undisturbed and able to concentrate on the writing exercises, for the whole event. After the leaders have introduced each activity, you will be invited to move away from your screen to write – pen or pencil and paper is recommended. You will need if possible to switch off other devices too, and not have other distracting apps running on your laptop besides Zoom. We will also ask that you attend to the instructions for each exercise and to the reading out and not move away from your laptops at those points, if humanly possible.
Vishvantara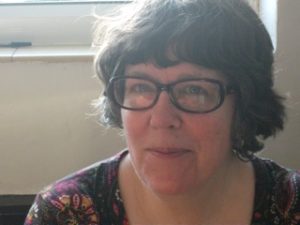 Vishvantara has been reading and writing poetry since childhood and her debut pamphlet Cursive was published by HappenStance Press in 2015. She has twice been commended in the National Poetry Competition and won first prize in the Poetry London competition. She has been associated with Wolf at the Door for over twenty years and (like Dharmavadana) has been co-leading its writing workshops for six years. She was Ordained in 2005 and teaches at the London Buddhist Centre.
Dharmavadana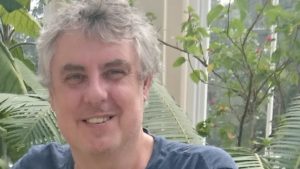 Dharmavadana has been an aficionado of the imagination since childhood. His short stories and poems have appeared in various magazines and he is poetry editor of the Triratna arts magazine Urthona. A Wolf at the Door writing retreat at Dhanakosa in Scotland in 2000 made him realise he could combine his loves of writing and the Dharma, and he is delighted to now be able to offer such retreats and workshops himself. He too was Ordained in 2005 and helps run activities at the WLBC.
Refunds
As places are limited, booking is required and must be for both the Saturday and Sunday. We give out vital introductory guidance on the Saturday. There is a booking fee for this event. Once you've booked, you'll be sent Zoom log-in details which will last for the whole weekend and any other necessary information.
If you have booked but need to pull out of the weekend due to health or other serious issues, the Centre can refund you as long as you notify them sooner than 48 hours before the beginning of the Saturday workshop. After that time, a refund may be negotiable depending on whether we can fill your space or not. Please note that the Eventbrite booking fee is non-refundable.
Contact
Queries related to the programme can be emailed to Dharmavadana: dharmavadana@btinternet.com
Much more information about Wolf at the Door writing workshops can be found here: www.wolfatthedoor.org