Parting words from Ratnaprabha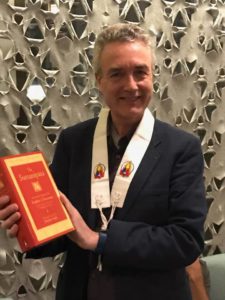 Dear sangha
This is Ratnaprabha, waving as I vanish behind Primrose Hill on my way to the North London Buddhist Centre on the Holloway Road, having completed ten fascinating and fun years at the West London Buddhist Centre with a lovely sendoff at Sangha Night last night (Tuesday).
I think that a Buddhist centre is a really precious resource. Practising the Dharma often seems a solitary activity, sitting and meditating, improving your ethics, studying the Buddha's teachings. But there are very few who can do it alone. The Buddha always highlighted the Sangha, the community, as on a par with the methods and goal of Buddhism. But the centre is not the Sangha, the centre is an empty shell; like an old Saxon moot hall waiting for the returning warriors, it needs people, i.e. you, to make it a Sangha. So I really hope you keep going to the centre, practising at the centre, and supporting the centre so that it can continue to be a flourishing and welcoming place of Dharma for increasing numbers of West Londoners as time goes on.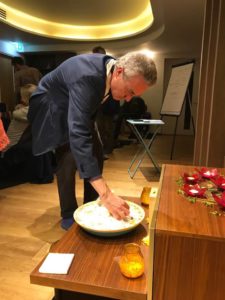 I'm also hoping that there will be more friendly connections between the different London Triratna centres, so stay loyal to West London, but do pop in at North London as well if you want to! I'm starting with a series of public talks on the Buddha's teachings to the former fire worshippers, "The World is Burning", this Saturday (6 October), and the first Saturdays of November and December at 11.30am.
Yours in the Sangha
Ratnaprabha
Thanks to Vilasamani for images of Sangha Night – see more