Sangha Day 2023: Nikki's Mitra Ceremony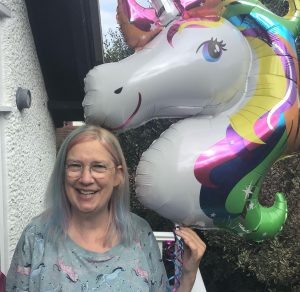 Nikki Green tells us of her journey to choosing to become a mitra (friend) at the WLBC.
My journey to becoming a Mitra at WLBC began as a child. I was christened Church of Egland, went to the Methodist church on Sunday and attended a convent school. So, at around age 5, I was asked "What faith are you?", I replied, "I'm a Buddhist"!
I had a very happy childhood which gave me a sunshine (Buddhist-like) blueprint of how to live my life. My mum was always smiling down at me in my pushchair – showing me the joys of the world, and she read me a poem every night! My nan was loving kindness personified: each morning, we would go round the garden together, to greet the new flowers.Nan said if I ever felt down, I should do a kindness for someone else. My favourite great-aunt practised altruism, working with prostitutes on the streets of Woolwich, London. At my small, local convent, every child was valued for themselves; nobody knew if they were top or bottom of the class.
When I lived in London, I managed to attend only one lunchtime meditation session with Paramananda because I was working flat out, practising Forensic (Criminal) Mental Health Law in Broadmoor Special Hospital. When lockdown started, I had one wish left on my bucket list: to learn to meditate and go to Buddhist school! So, I went online and joined Bodhilila's first WLBC zoom meditation. I've now attended 9 courses and 4 WLBC retreats over 4 years, even though I now live at Botany Bay, Kent!