Sutrathon 2021 COMPLETED!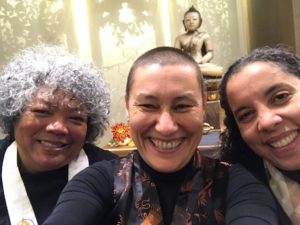 Here we are, half of our Sutrathon team at the early hour on Friday, following a 19-hour Sutra of Golden Light reading and meditating. 
It was such a magical journey of listening to the teachings from the sutra and meditating in the shrine room of the West London Buddhist Centre.  Huge thank you also to Dharma and Sahananda who were reading some of the early chapters.
So far we have raised the beautiful sum of £928.30 in online and offline donations – and we hope we can raise a little more. If you had that thought of supporting us and haven't done that yet, please do, we will be grateful: https://donorbox.org/west-london-buddhist-centre-sutrathon-2021
Thank you for all the generosity that was coming from you and also some of you to be taking part online.  We hoped that we could share a link for you to dip into those golden rays post-event but the video of 19 hours has disappeared during its transformation into the YouTube Studio and reminded us that – yes, all is impermanent…
Thank you and let's look forward to Sutrathon 2022.