Emma Tian Williamson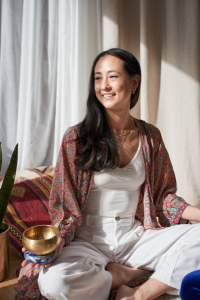 Emma is a mindfulness, yoga and qigong teacher based in Stoke Newington, London. She is an Associate Teacher at Breathworks, where she also wears two hats as the organisation's Head of Marketing.
She was drawn to mindfulness and meditation after experiencing a period of burnout while working and living a fast-paced agency life Hong Kong. This became the catalyst for a two-year solo trip around the world which took her to silent meditation retreats in India, Buddhist monasteries in Thailand and plant medicine centres in the Amazon.
Her mindfulness teaching journey began in lockdown of 2020 and she has since taught individuals in workplace, hospice and festival settings.
For her, the balancing practice of mindfulness is an 'antidote for modern life'. What she loves most about teaching is passing on the tools that have helped her to live a more resilient and happy life. She enjoys keeping herself sustained by travel, books, podcasts and getting out into nature.