Emmanuelle de la Lubie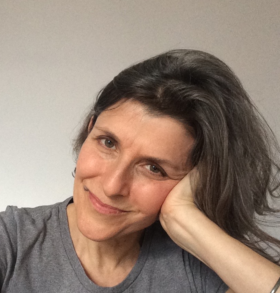 Emmanuelle de la Lubie has practised many different types of yoga including Astanga, Sivananda, and Hatha yoga. In 2008 Emmanuelle discovered the Iyengar Yoga method and found that it was the one for her! Encouraged by her teacher Amparo Rodriguez, she began the teacher training programme at the Iyengar Yoga Institute in Maida Vale with Senior teacher Sallie Sullivan and Stephen Richardson.
The Iyengar method, which puts a strong emphasis on precision and alignment, gave a new depth to her practice and resonated with her own search for a strong guiding principle.The intelligent use of props guides the student towards a better asana practice.
She travels regularly to India to deepen her knowledge of a subject that has now become a way of life. As a teacher, she is rigorous, yet compassionate, and always keen to share new findings on the never-ending journey of yoga.
Emmanuelle came to the UK from France in 1985. She holds a degree in Political Science, from Strasbourg University as well as a BA in Fine Art from Goldsmiths. She divides her time between her art and yoga, often finding that one feeds the other.
She is currently working on a project of yoga drawings and illustrations.
One of her favourite quote by BKS Iyengar is:
"When I practise, I am a philosopher. When I teach, I am a scientist. When I demonstrate, I am an artist."
Tuesdays Iyengar Yoga: 8-9.15pm