Sophie Arditti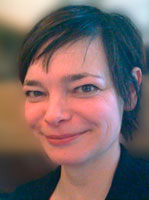 After many years attending Feldenkrais classes Sophie Arditti began her professional training in Switzerland in 2006. She started teaching classes in West London in 2008.She sees clients on a one to one basis in her practice near Ladbroke Grove. In 2012, she became the assistant organiser to Scott Clark when he started the second London Professional Training programme.
Sophie has a BA Hons in Applied Language Studies (Russian & Spanish), a Higher National Diploma in Fine Art and worked in the publishing industry for Penguin, Random House & Verso books.
'At the WLBC we'll start with a series of lessons to make sitting for your meditation practice more comfortable. Most of the lessons will be done lying down yet you can expect not just sitting but walking to be improved, back & hip pain to be reduced, you will find you have more mobility and strength in your feet, ankles, hip joints, back and many other changes too. The lessons are easy, profound yet playful. I look forward to meeting you and exploring this phenomenal method with you!