The Next Generation
I am very, very excited about the 
Ebenos ensemble concert
this Saturday, 25 January
. I love all our concerts – as a musician myself it has meant a lot to me personally to share music with the sangha. It's been such a pleasure to host so many excellent concerts at the West London Buddhist Centre and to witness the pleasure experienced both by the musicians and the audiences. (I still can't quite believe that so many world class artists are willing to play for peanuts at our little venue). However, this concert feels special because the musicians that make up the Ebenos Ensemble are still students at various London music colleges. They are all at the start of what I'm sure will be very successful careers (individually they are already getting professional engagements and performing as soloists in concertos) and this is only their second concert playing together as a chamber ensemble. It's rare opportunity to hear highly talented musicians who are still developing their skills and musical sensibility, a chance to discover the classical music stars of tomorrow.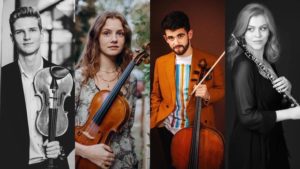 I remember back when I was at music college the joy of finding musical soulmates to play chamber music with and the excitement of learning and performing musical works for the first time. In fact, although I worked as a classical musician for 16 years, I know that some of my best-loved performances were when I was playing with other young musicians – we were all so dedicated, so passionate, so inspired. Many of those musicians went on to successful international careers and some of them I have managed to lure to give concerts at the West London Buddhist Centre. These include 
Ursula Leveaux
  the bassoonist who is giving her second recital in February and Caroline Dearnley, Rebecca Hirsch and Clare Finnimore who gave a string trio recital back in 2017. At the time, Caroline tentatively asked if it would be okay for her daughter, Catriona to join them to perform Mozart's oboe quartet (Catriona had recently been offered a place to study at the Royal College of Music). Of course I said yes and was very impressed with Catriona's playing.
Catriona is the oboist in the Ebenos Ensemble, so it feels as if there's personal connection. And there is something delightful about welcoming the next generation of musicians as they begin to flower artistically. I don't know the other musicians so am looking forward to hearing them play. They have chosen an interesting programme including Beethoven, Britten, Finzi, Clara Schumann and Piazzollo. There are six musicians who will come together in different instrumental combinations but starting and ending as a quartet. Do come and support these talented young musicians, I'm sure it will be a terrific evening.