New departures in impermanence
Bodhilila shares her appreciation of Ratnaprabha as he approaches his last Sangha Night at WLBC on 2 October, and reflects on all the new meetings and partings happening this year at WLBC in the light impermanence and conditionality – central themes for our 'Opening the Doors to Insight' weekend retreat coming up on 12-14 October.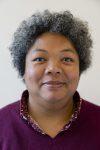 Dear sangha
Yesterday I was sitting in the sun, gazing at an imposing mountain range and the clouds moving across the wide blue sky, and found myself reflecting on impermanence. I was aware that it was Padmasambhava Day and, although it was a beautiful sunny day and I was in a beautiful location, I was sad that I was missing one of our festival days, wanting to celebrate it with the West London Buddhist Centre sangha. I was also aware that at the North London Buddhist Centre, during their festival day, there would be a ritual marking the handover of the role of Centre Chair as Ratnaprabha formally took over from Visuddhimati. And I knew that when I return to London at the end of the month, Ratnaprabha will no longer be part of the WLBC Centre team or sangha.
Ratnaprabha has worked at the West London Buddhist Centre for the last 10 years. He came to support Jinananda, who was the Chair at that time. By all accounts that was a very rocky period in the Centre's history, and Ratnaprabha played a crucial role in establishing more order in the day to day running of the place and in developing its financial stability. I remember Jinananda telling me what a great support he had found Ratnaprabha personally and also how much difference his arrival made. In those days WLBC was still based in a house in Westbourne Park Villas and anyone ringing the bell was likely to have been greeted by Ratnaprabha, who was always welcoming, whether it was a passerby making enquiries or a longstanding member of the sangha.
When I first came to work at the Centre it was Ratnaprabha who interviewed me and he seemed to be running things almost single-handedly (with other Order members dropping by to teach classes and courses). Paramananda had just taken over as Chair and he did a great job developing the team and inspiring the sangha with his teaching and his vision for the Centre. However, it was Ratnaprabha who was there day after day, a steady, reliable and friendly presence.
In recent weeks Ratnaprabha began working part-time at the North London Buddhist Centre in the run-up to becoming Chair. He left the Sangha Night team (though he kindly agreed to come back to the class for the last three weeks in September since I would be away on retreat). He taught his last six week Buddhism course and completed the excellent Wednesday lunchtime drop-in Buddhism classes he has been leading (Paramananda, Dhammagita and Vilasamani will now be leading this class, starting on 10 October with a ten week series on the mandala of the five dhyani Buddhas).
For the Centre team it's been a period of transition and change, with other changes to the team including Hanka joining us as Centre Manager back in June. Then a couple of weeks ago we had our final team meeting with Ratnaprabha. Since he has such a love for the Dharma, as well as individually rejoicing in Ratnaprabha's merits we each shared a teaching that was important to us and gave him a copy to take away. Hanka had baked a delicious vegan chocolate cake and some tasty 'sunyata balls' (gluten and sugar free). I found it both a touching, appreciative celebration of Ratnaprabha and also a positive reminder of why I love working with other Buddhists.
I've already been missing Ratnaprabha on Sangha Night. I've enjoyed working with him on the class team and above all I've loved all his talks. I think that Ratnaprabha is a wonderful Dharma teacher and I always find his talks informative, challenging and inspiring. If you've been to a class, course, study group or retreat led by Ratnaprabha then you will have experienced just how gifted a teacher he is, how he communicates his vast knowledge of the Dharma with clarity and humour in a way that engages and inspires people at all levels of experience. We are particularly fortunate to have so many fine teachers at the West London Buddhist Centre, yet I know that Ratnaprabha will be greatly missed. However, there is still time to catch him at Sangha Night over the next two weeks and do try and come to his final class on Tuesday 2 October when he will give a talk on Wisdom as a spiritual faculty.
Still, although Ratnaprabha's departure to the NLBC was very much on my mind, there were many more strands to my reflections on impermanence. I found myself seeing clearly the way that impermanence is linked to conditionality, with things arising and passing away as conditions change. I saw this pattern repeating again and again in my own and in my friends' lives, saw how, as something comes to an end, it creates the possibility for something new to come into being.
I've also seen this happening at the West London Buddhist Centre, with so many changes even in the few years I've been part of the sangha. Although my good friend Akashadevi recently stopped teaching at the Centre and moved to Cornwall, I've been delighted that another good friend, Sudurjaya, is now co-leading our Buddhism in the City class. I miss Jinananda terribly but I'm excited about Ratnadeva who will be joining our sangha as men's Mitra Convenor in January. And everyone who has worked with Hanka has seen what a positive effect she has had on the running of the Centre, the Centre team and the sangha in the few months since she started work. Her appointment only became possible after Ratnaprabha had accepted the role of NLBC Chair.
If you are interested in exploring the theme of impermanence and reflecting on it in relation to your own life, then I invite you to come on our weekend retreat, 'Opening the Doors to Insight' from 12-14 October. I will be co-leading the retreat with Dharmavadana, with Sudurjaya as retreat organiser. We will be investigating the three lakshanas – suffering/unsatisfactoriness, impermanence and insubstantiality. These are three aspects of life which, if we reflect on them, can lead us towards insight and a deeper understanding of Reality. If you can't make the retreat this will also be the new theme at Sangha Night starting on 30 October. So, if you are a Sangha Night regular, I encourage you to come on the retreat for an immersive introduction to the theme, which will give you a more experiential context for the next series of talks.
I used to find endings of any kind very difficult. Nowadays I may still find them difficult but also have a Dharmic perspective and can view them as just part of the reality of life. I know that everything is impermanent, nothing is fixed, everything is in process. So even while I may experience sadness and loss, I've learned to wait and see what emerges later on. Change is happening so why not embrace it?
With metta
Bodhilila