From Pope's Shock Troops to Dharmadruidry: Ratnadeva arrives!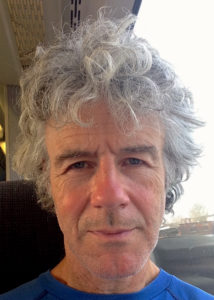 This week sees a significant change for our Centre team and our sangha: last Tuesday, Ratnadeva joined the team to take on the role of men's Mitra Convenor, as well as teaching and administrative tasks at the Centre.  He arrives in London following nine years working full-time with Buddhafield, and fresh from three months on retreat at Uttaraloka, Triratna's facility for intensive, longer term retreats in the Spanish Costa Blanca mountains.
If you want to welcome Ratnadeva and get to know him better, come to Sangha Night next Tuesday (15 January, 7pm), in which he will be introducing himself to the sangha by describing his forty year spiritual journey from Irish Catholic Opus Dei zealot to Buddhafield neo-pagan, aspiring hippie. And if you're looking for more clues to his character and interests, you might stop by next week's Wednesday lunchtime drop-in Buddhism class, in which he'll be looking at the eleventh century Tibetan magician turned mountain dwelling Tantric yogi poet, Milarepa. He'll also be co-leading some retreats this year, including weekend retreats 8-10 March (at Othona) and 24-26 May (at Vajrasana), as well as our midweek 'Going Deeper' retreat which runs Monday 24 – Friday 28 June at Vajrasana – booking is now open for all of these retreats.
Welcome, Ratnadeva!