Sangha Night
Tuesdays 7-9.30pm
Booking not required
No charge, suggested donation £10
The Sangha Night class is a chance to explore Buddhism and meditation through a rolling programme of presentations and small group discussions. Open to all who have learnt meditation. A Buddhism course is a good way in to this class, but you are very welcome whether or not you have done a course. Tuesdays 7-9.30pm, by donation. You can listen to recordings of some of the talks at www.freebuddhistaudio.com.
Current Theme: Ratnasambhava – The Jewel-Born
On Buddha Day we launched a new theme that will run through our programme at the Centre over the next year: the Buddha Ratnasambhava. Just as the biblical God 'makes his sun rise on the evil and the good', so does the golden sunlight of Ratnasambhava's care and generosity shine on all without distinction. His is the wisdom of equality – the radical equality that is founded on emptiness of inherent existence. In and through it's emptiness, reality is pregnant with possibility, limitless, abundant beyond our ken. Contemplation of the vastness of this abundance is humbling and puts us in our place – an equipoise of ordinary, everyday exaltation.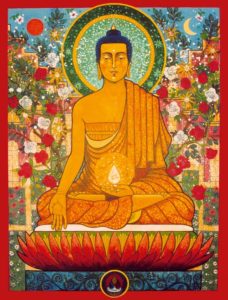 Join us for a series of talks on the themes that flow from the rich archetype that is Ratnasambhava.
May 21 Introducing Ratnasambhva, Buddha of the southern realm – Bodhilila
May 28 Ratnasambhava and opening to joy – Bodhilila
June 4 Ratnasambhava and the untarnished jewel – Ratnadeva
June 11 Ratnasambhava and the wish fulfilling jewel – Kamalashila
June 18 Ratnasambhava and the poison of pride and conceit – Amlanadhi