Drop-in Classes
We offer a number of regular classes that you can attend at any time without making any bookings. Classes are suitable for those wishing to learn how to meditate as well as those who would like the support of meditating with others and the possibility of talking with a teacher after the class. Take a look at our courses page if you are interested in attending classes with a longer running, more structured itinerary.
Open to all
Lunchtime Meditation Monday – Friday 1-2pm
Thursday Evening Meditation Thursdays 6.30-7.30pm
Saturday Morning Meditation Saturdays 10am-12noon
Meditation for LGBTQ Women/Trans Second Friday of the month 7-9.30pm
Meditation & Buddhism for Young People Third Friday of the month 7.15-9.30pm
Ealing Class Wednesdays 7-9pm
(This class is at the Friends Meeting House, 17 Woodville Rd, Ealing, London W5 2SE)
For those who have learnt to meditate
Morning Meditation Monday – Friday 7.25-8.15am
Meditation Space Thursdays 7-9.30pm
Practice Night: Meditation and Puja Fridays 7-9pm
Meditation Club Last Sunday of the month 10.30am-5pm
Events List Navigation
May 2018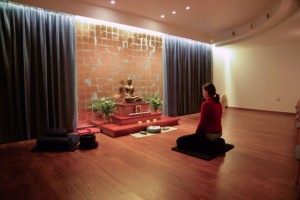 Meditation space is for people with a regular meditation practice. It will follow a simple format of a meditation followed by time for discussion/dialogue.
The idea is to create a space where people can talk about their practice in more depth with others who share their interest in meditation.
Find out more »
Usual teacher:  Paramananda
+ Export Events