Although we have had to close our Centre and Studio for the time being we are still delighted to be able to offer the following weekly programme for everybody to enjoy. We are so grateful to the teachers who have pooled together to make this online resource possible. As Bodhilila, Chair of WLBC, writes:
The West London Buddhist Centre is not just the physical building, however beautiful it may be. The heart of the centre is the network of people that make up our community; together we create a shared context for spiritual practice, together we create sangha.
We want to offer all these classes freely as we feel that practice can be a true support to us, especially now. If you are able to, please consider making a one off or a monthly donation to the WLBC to help see us through this period of uncertainty.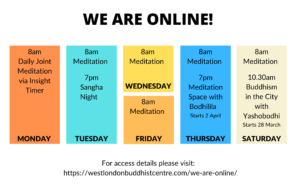 Buddhism & Meditation
Joint Self-Led Meditation via Insight Timer
Everyday Monday – Sunday 8am
In case you're not familiar with the app, there's no leading just the sense of joining others in the Sangha in simultaneous self-led practice (no guidance). Simply download the Insight Timer app on your device and request to join the group: KS/YB and friends.
All welcome. Free.
Sangha Night Online
Tuesdays 7-9pm
The Matrix of Mindfulness with Vajradaka
Tuesdays 24, 31 March 7-9pm
Zoom meeting link
Meeting ID: 967 899 816
Password: 517652
After a one week break from Vajradaka's workshops we will be continuing them online on the Zoom platform. In his characteristic workshop style, Vajradaka will explore how to apply mindfulness to mental and emotional well-being, everyday life as well as personal and spiritual development. Even more relevant than ever!
All Welcome. By Donation.
You will need to install the Zoom app or programme on your device before joining Sangha Night Online.
Meditation Space Online with Bodhilila
Thursdays 7-8.30pm starting 2 April (details to follow)
For regulars and those who have learnt to meditate. By Donation.
Buddhism in the City Online
Saturdays 10.30am – 12.00pm starting 28 March
Zoom meeting link
The class will cover a range of topics focused on practising the Dharma in the modern urban setting and is aimed at people who already meditate and have a basic knowledge of Buddhism. Yashobodhi is inviting people to email her on yb@yashobodhi.org if they have suggestions for themes.
You do not need to install the Zoom app or programme on your device in order to join the Buddhism in the City Online class.
Yashobodhi has uploaded a talk in place of this Saturday's (21 March) Buddhism in the City, which can be accessed here.
The talk starts with a 5-minute meditation. Then Yashobodhi reflects on the situation now, about transitioning to a new format of class, about the history of the class and the themes we have covered. She also gives some tips as to how to negotiate this period of time and finishes with information about Zoom, the platform that will be used to run the Buddhism in the City Online from 28 March and how to do the class online.
For regulars and those who have learnt to meditate. By Donation.
Bodywork
Some of our studio teachers are also moving classes online and here's where you can find them:
MayMay Knight for Yoga or Qi Gong
QiGong and Yoga with Maymay Knight:
Monday 9.15 – 10.45 QiGong
Monday 11.00 – 12.30 Yoga
Thursday 9.15 – 10.45 QiGong
Thursday 11.00 – 12.30 Yoga
Contact: yogawithmaymay@gmail.com or qigongwithmaymay@gmail.com
Sophie Arditti for Feldenkrais
Tuesday 17.15 – 18.25 Feldenkrais
Other classes on offer
Contact: sophie@feldenkraisplace.co.uk
Pawel Wiacek for Qi Gong:
Friday 11.00 – 12.00 Qigong
Other classes on offer
Contact: pawelstherapies@gmail.com or website: www.pawelwiacek.com
Resources
And if you would like to access other teachers, here are just a few recommendations:
Breathworks: Mindful Self-care for Troubling Times
A free online course from our partner organisation based in Manchester who developed the secular Mindfulness for Stress and Mindfulness for Health courses we run at the Centre.
Buddhist Centre Online: Dharma Toolkit for Uncertain Times
Free podcasts and live meditations twice a day Monday to Friday from 23 March.
Free monthly e-books when you sign-up to their newsletter, 10% off book orders on account and free shipping on all orders for the next few months.
A global community focused on mindful and compassionate living providing online meditations since 2001 now has an app and online courses:
A huge resource of free guided meditations, courses, talks and music, as well as meditation bells for self-practice.