We are Online!
Although we have had to close our Centre and Studio for the time being we are still delighted to be able to offer the following weekly programme for everybody to enjoy. As Bodhilila, Chair of WLBC, writes:
The West London Buddhist Centre is not just the physical building, however beautiful it may be. The heart of the centre is the network of people that make up our community; together we create a shared context for spiritual practice, together we create sangha.
Quick access to the classes are available below. For a description of each class and links to other helpful resources please visit: We are Online! 
We would like to offer all these classes freely as we feel that practice can be a true support to us, especially now. If you are able to, please consider making a one off or a monthly donation to the WLBC to help see us through this period of uncertainty.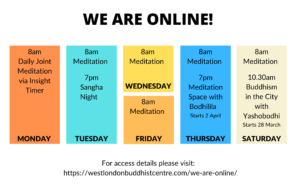 Monday – Sunday Daily Joint Meditation via Insight Timer 8am
Simply download the Insight Timer app on your device and request to join the group: KS/YB and friends.
All welcome. Free
Tuesday Sangha Night 7-9pm*
Starts 24 March
Zoom meeting link
Meeting ID: 967 899 816
Password: 517652
*You will need to install the Zoom app or programme on your device before joining Sangha Night Online.
All Welcome. By Donation.
Thursday Meditation Space with Paramananda and Bodhilila 7-8.30pm
Starts 2 April (details to follow)
For regulars and those who have learnt to meditate. By Donation.
Saturday Buddhism in the City with Yashobodhi 10.30am – 12.30pm
Starts 28 March
Zoom meeting link
For regulars and those who have learnt to meditate. By Donation
The Studio
Some of our studio teachers are running classes independently online and here's where you can find them:
MayMay Knight for Yoga or Qi Gong
QiGong and Yoga with Maymay Knight:
Monday 9.15 – 10.45 QiGong
Monday 11.00 – 12.30 Yoga
Thursday 9.15 – 10.45 QiGong
Thursday 11.00 – 12.30 Yoga
Contact: yogawithmaymay [at] gmail [dot] com or qigongwithmaymay [at] gmail [dot] com
Sophie Arditti for Feldenkrais
Tuesday 17.15 – 18.25 Feldenkrais
Other classes on offer
Contact: sophie [at] feldenkraisplace [dot] co [dot] uk
Pawel Wiacek for Qi Gong:
Friday 11.00 – 12.00 Qigong
Other classes on offer
Contact: pawelstherapies [at] gmail [dot] com, or website: www.pawelwiacek.com